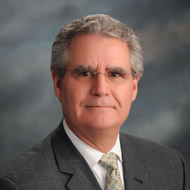 Eldon is licensed to practice in Kansas and his background includes extensive foreclosure practice, real property practice, creditor bankruptcy practice and general business and commercial practice.
Eldon graduated from Holcomb High School in 1966 and thereafter graduated from the University of Kansas with a degree in Business Administration in 1970 and the University of Kansas Law School in 1973. Upon graduation from law school Eldon was employed as an attorney for the State Board of Tax Appeals with the State of Kansas and has been in private practice since 1974. Eldon is a Certified Foreclosure Commissioner pursuant to Section 805 of the Single Family Mortgage Foreclosure Act of 1994, 12 USC 3754 (1996). Eldon represents numerous national lenders and many local Banking institutions.
Eldon is married to Janice M. Boston. They enjoy travel and sharing time between their homes in Kansas and Woodland Park, Colorado.
Education
J.D., University of Kansas School of Law, 1973
B.S., Business Administration, University of Kansas, 1970
Admissions
Kansas
U.S. Supreme Court
U.S. District Court for the District of Kansas
U.S. Bankruptcy Court for the District of Kansas
Professional & Civic Activities
Kansas Bar Association
Topeka Lawyers Club